Es gibt Wochenenden auf die man sich besonders freut. Das Wochenende am 20./21. Oktober 2017 gehörte definitiv dazu. PhotoTours4U hatte zusammen mit der FUJIFILM School einen GFX Workshop organisiert zu dem ich mich bereits vor längerer Zeit angemeldet hatte. Wie in einem meiner letzten Blogs ja geschrieben, habe ich mich vor rund einem Jahr von meiner "vollformatigen" Canon-Ausrüstung getrennt und bin komplett zu FUJIFILM und seinen X-TRANS-Sensoren gewechselt. Eine Entscheidung, die ich zu keinem Zeitpunkt bisher bereut habe!
There are weekends to look forward to. The weekend on 20/21 October 2017 was definitely one of them. PhotoTours4U and the FUJIFILM School had organized a GFX Workshop for which I had already registered a while ago. As I wrote in one of my last blogs, I sold my "full size" Canon equipment about a year ago and switched completely to FUJIFILM and its X-TRANS sensors. A decision I have never regretted at any time!
Nun hat FUJIFILM mit der GFX 50s eine Mittelformatkamera auf den Markt gebracht die in vielerlei Aspekten nochmal in einer völlig anderen Liga spielt. Sicher hätte ich mir die Kamera auch bei dem Photohändler meines Vertrauens mal für ein paar Stunden ausleihen können, aber das ersetzt bei weitem nicht die Möglichkeit, diese Kamera mal für zwei Workshop-Tage in den Händen zu halten und sie in verschiedenen Situationen ausprobieren zu können. Grund genug, diesem Ereignis einen eigenen Blog-Eintrag zu widmen und mein ganz persönliches Review zur FUJIFILM GFX 50s abzugeben:
Now FUJIFILM has launched the GFX 50s, a medium format camera that plays in a completely different league in many aspects. Of course, I could have borrowed the camera from a photo dealer I trust for a few hours, but that doesn't replace the possibility to hold this camera in my hands for two days of workshops and to try it out in different situations. This was reason enough to dedicate a blog entry to this event and give my very personal review of the FUJIFILM GFX 50s:
Das Ziel. The Goal.
Mein persönliches Ziel für diesen Workshop war, herauszufinden, ob es sich für mich als ambitionierten und leidenschaftlichen Hobbyfotografen lohnt, rund 6.000 € in ein Kameragehäuse zu investieren plus zusätzlich zwischen 1.300 und 2.300 € pro Objektiv für die dazu passenden Linsen. Oder um es konkreter auszudrücken: Eine FUJIFILM GFX 50s mit einem GF 23mm (8.500 €) kostet dreimal so viel wie das vergleichbare Package einer FUJIFILM X-T2 mit einem XF 16mm (2.800 €) - aber ist sie mir auch dreimal so viel wert?
My personal goal for this workshop was to find out whether it is worthwhile for me as an ambitious and passionate amateur photographer to invest around 6,000 € in a camera body plus between 1,300 and 2,300 € for each lens. Or to be more specific: A FUJIFILM GFX 50s with a GF 23mm (8.500 €) costs three times as much as the comparable package of a FUJIFILM X-T2 with an XF 16mm (2.800 €) - but is it worth three times as much to me?
Der Schauplatz. The Setting.
Zwei Tage Workshop in Berchtesgaden unter fachkundiger Leitung von FUJIFILM-X-Fotograf Christian Ringer. Im Set enthalten eine FUJIFILM GFX 50s mit GF 23 mm Objektiv. Ich erspare mir alle Ausführungen zu den technischen Details der GFX 50s und des G-MOUNT-Systems, diese kann man an anderer Stelle nachlesen. Aber ich habe ein Photo der GFX 50s mit GF 23mm und meiner X-T2 mit XF 16mm im Vergleich:
Two workshop days in Berchtesgaden under the professional guidance of FUJIFILM-X-photographer Christian Ringer. Included in the workshop package is a FUJIFILM GFX 50s with GF 23 mm lens. I will not go into all the technical details of the GFX 50s and the G-MOUNT system, which you can check elsewhere. But I have a photo of the GFX 50s with GF 23mm and my X-T2 with XF 16mm in comparison:
Darüber reden wir also. Links die X-T2 mit einem XF 16mm f/1.4 und rechts die GFX 50s mit dem GF 23 mm f/4. Die X-T2 wirkt direkt zierlich neben der GFX. Fast wirkt es so als könnte das GF 23mm mit seinen 82mm Filterdurchmesser die X-T2 "fressen". Der Gewichtsunterschied zwischen den beiden abgebildeten Systemen ist gefühlt analog zum Größenunterschied - auch hier erspare ich mir den genauen Vergleich. So weit war das zu erwarten, denn schließlich möchte ein Mittelformatsensor mit 43.8mm x 32.9mm auch untergebracht und belichtet werden. Das braucht ein entsprechendes Gehäuse und viel Glas im Objektiv. Wenn ich jedoch in meiner Erinnerung an die nicht mehr in meinem Besitz befindliche Canon 5D Mk II und deren lichtstarke Linsen zurückdenke, dann ist der Unterschied zu einer GFX 50s nicht wirklich sehr groß. Die Kamera selbst liegt sehr gut in der Hand und stellt einen X-T2-Besitzer wie mich nicht vor große Herausforderungen in der Handhabung. Menüstrukturen und Bedienung sind weitgehend vergleichbar. Was mir persönlich gefehlt hat war das Belichtungskorrektur-Rad, dass in der GFX einem Display gewichen ist. Das zeigt zwar auch im ausgeschalteten Zustand bestimmte Informationen z.B. zur Anzahl noch verfügbarer Bilder auf der Speicherkarte und dem Akkustatus - gebraucht habe ich aber in den zwei Tagen das nicht wirklich.
So that's what we're talking about. On the left the X-T2 with an XF 16mm f/1.4 and on the right the GFX 50s with the GF 23 mm f/4. The X-T2 looks quite neat next to the GFX. It almost seems as if the GF 23mm with its 82mm filter diameter could "eat" the X-T2. The difference in weight between the two systems shown is felt to be analogous to the difference in size - here too, I do not have to make the exact comparison. This was to be expected because a medium-format sensor with 43.8mm x 32.9mm also wants to be accommodated and exposed. This requires an appropriate body and a lot of glas in the lens. However, when I think back to the Canon 5D Mk II and its high speed lenses in my memory, the difference to a GFX 50s is not really big. The camera itself is very comfortable to hold and does not challenge an X-T2 owner like me in handling. Menu structures and operation are largely comparable. What I personally missed was the exposure compensation wheel that gave way to a display in the GFX. This shows certain information about the number of still available pictures on the memory card and the battery status even when switched off - but I didn't really use it in the two days.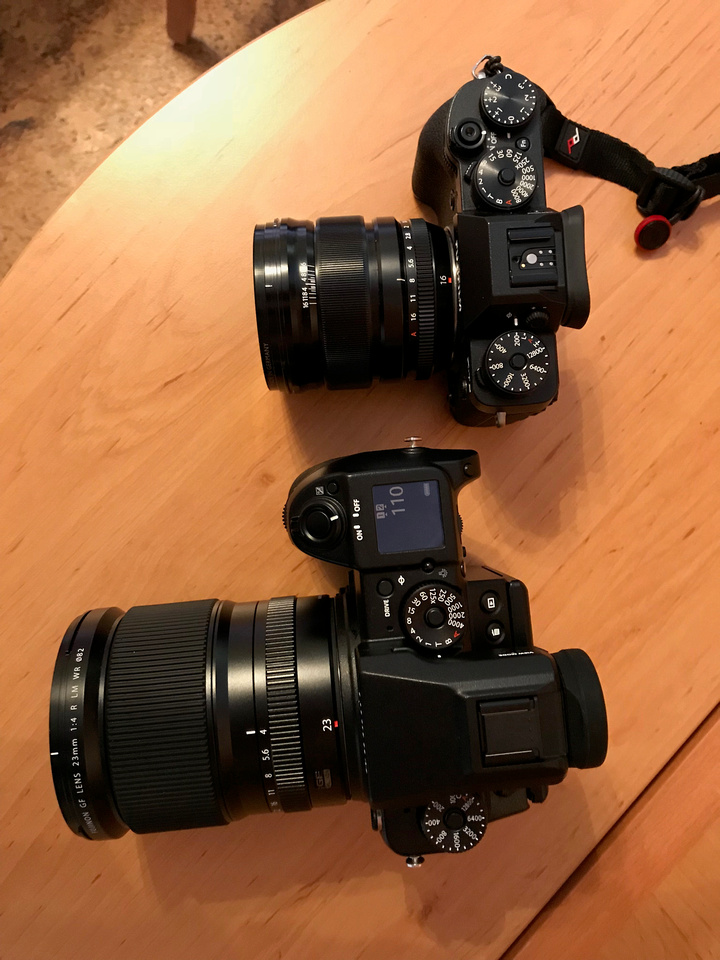 Der Praxiseinsatz. The practical application.
Am ersten Abend geht es bei sternenklarem Himmel zur Kirchleitn Kapelle (Locksteinkapelle). Die Aufgabe: Nachtaufnahme mit der GFX 50s. Hier das Ergebnis:
On the first evening we went to the Kirchleitn Chapel (Locksteinkapelle) in a starry sky. The task: Night scene with the GFX 50s. Here is the result: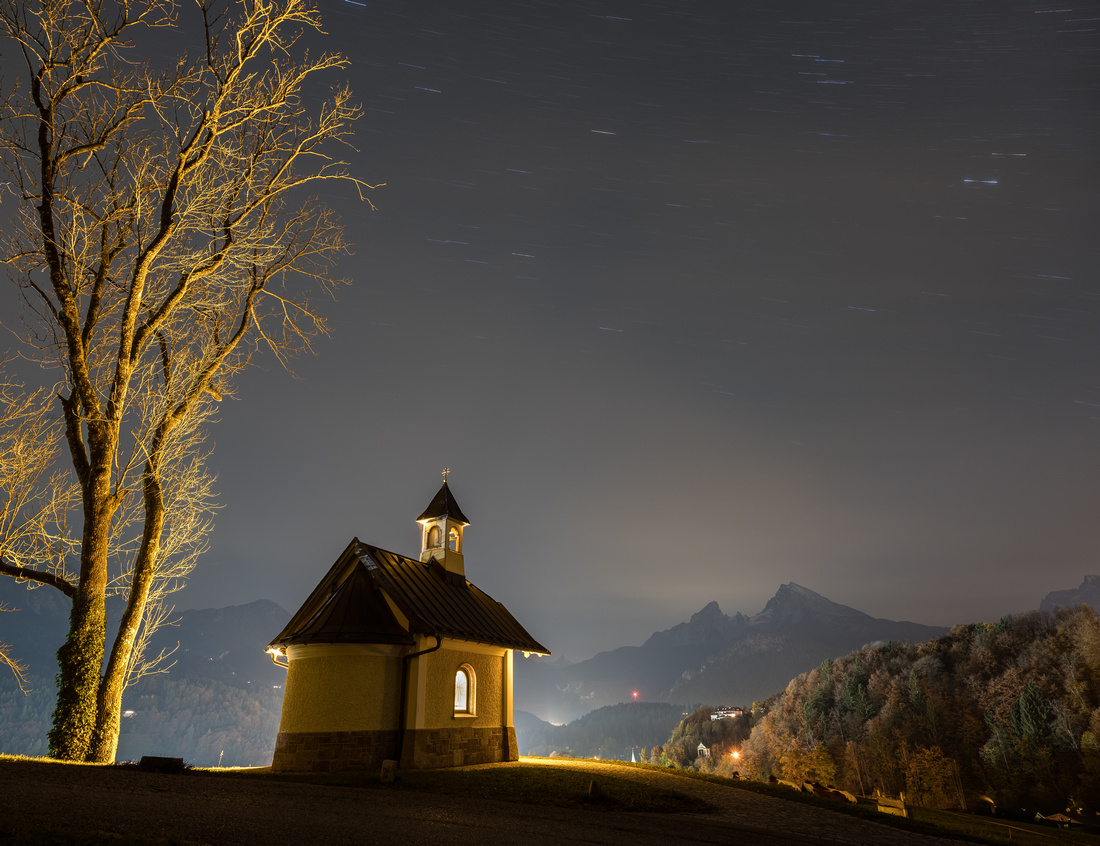 Acht Minuten Belichtungszeit bei f/5.6 und ISO 100 führen zu einem komplett rauschfreien und beeindruckend detailreichem Ergebnis. Ein Beispiel gefällig? Am Turm der Kapelle befindet links ein Spinnennetz. In der 100%-Ansicht sieht man, dass man jeden Faden in dem Spinnennetz erkennen kann:
Eight minutes of exposure time at f/5.6 and ISO 100 results in a completely noise-free and impressively detailed result. The tower of the chapel has a spider's web on the left. In the 100% view you can see that you can see every thread in the spider's web: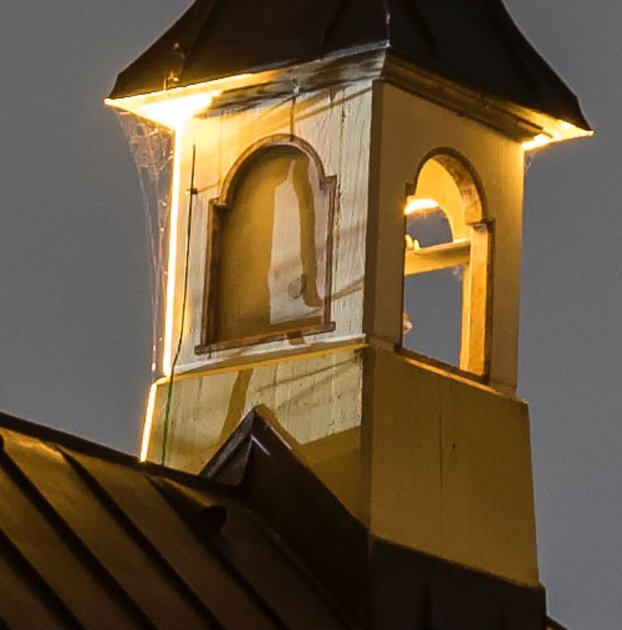 Die Sterne werden bei dieser Belichtungszeit logischerweise schon als Lichtspuren dargestellt. Möchte man dies nicht, muss die Belichtungszeit runter. Die Faustformel für klare Sterne lautet 500 geteilt durch Brennweite (auf Vollformat umgerechnet), also 500/18 macht knapp 30 Sekunden. Die ISO-Zahl geht entsprechend rauf, in diesem Fall ergibt sich für ein analog belichtetes Bild eine ISO von 6.400. Ein gutes Beispiel, wenn man sich das Rauschverhalten der Kamera näher anschauen möchte. Hier zunächst das gesamte Bild:
The stars are logically displayed as light traces at this exposure time. If you don't want to do this, the exposure time must be reduced. The rule of thumb for clear stars is 500 divided by focal length (converted to full size), so 500/18 is about 30 seconds. The ISO number goes up correspondingly, in this case an ISO of 6,400 is obtained for an analog exposure image, a good example if you want to take a closer look at the noise behaviour of the camera. Here is the complete picture:
Die 30s Belichtungszeit bei wiederum f/5.6 und ISO 6400 führen zu einem klaren Sternenhimmel und einem in der Gesamtansicht sehr klaren und wenig verrauschtem Bild. Wenn man sich einen 100%-Ausschnitt anschaut, dann wird der Unterschied im Rauschverhalten jedoch sehr deutlich:
The 30s exposure time at f/5.6 and ISO 6400 results in a clear starry sky and a very clear and low-noise overall view. If you look at a 100% cutout, the difference in noise behavior becomes very clear:
Festzuhalten bleibt, dass auch eine Mittelformatkamera ab einer gewissen ISO-Zahl Bildrauschen verursacht. Dass Rauschen der GFX ist jedoch angenehm homogen und bleibt für die doch recht hohe ISO-Zahl von 6.400 in einem meines Erachtens vertretbaren Rahmen. Ich persönlich bin recht "rauschempfindlich" und würde im Praxiseinsatz auch bei einer GFX ISO-Zahlen größer 1.600 meiden, um rauschfreie Bilder zu erhalten. Bei der Sternenfotografie bleibt einem manches Mal keine Wahl, so dass man nur in der Nachbearbeitung an der Rauschreduzierung arbeiten kann. Wenn man in diesem Fall das Bild aus Lightroom (ohne Rauschreduzierung) in das NIK-Filter-Tool DFINE2 exportiert ergibt sich nach der automatischen Rauschreduzierung folgendes Ergebnis:
It should be noted that even a medium format camera with a certain ISO number or more causes image noise. The noise of the GFX is pleasantly homogeneous and remains within a reasonable range for the high ISO number of 6,400. Personally, I'm quite "noise sensitive" and in practice I would avoid ISO numbers greater than 1,600 in order to get really noise-free pictures. With star photography, there is sometimes no choice but to work on noise reduction in the post-processing. In this case, exporting the image from Lightroom (without noise reduction) to the NIK filter tool DFINE2 results in the following result after the automatic noise reduction: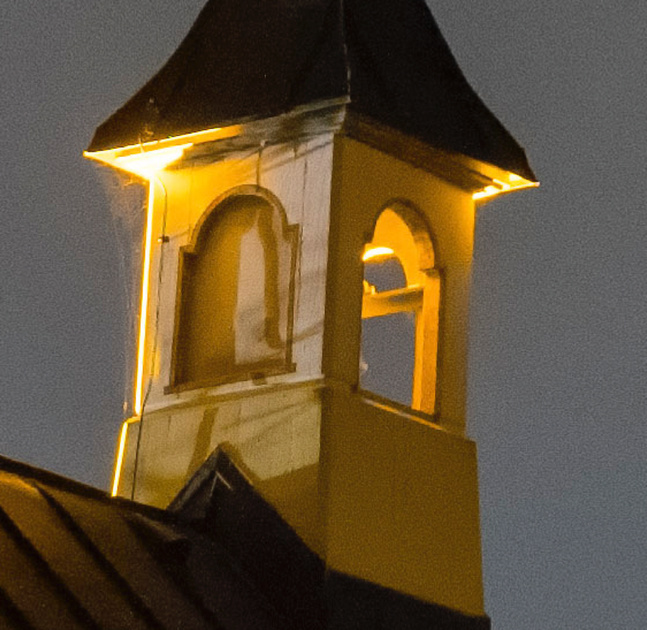 Am zweiten Workshop-Tag fuhren wir zum Sonnenaufgang zum Hintersee bei Berchtesgaden - leider war es so bewölkt, dass keine "schönen" Photos entstanden sind. Ich habe dieses Setting jedoch genutzt, um die GFX gegen die X-T2 zu vergleichen. Hier zunächst die beiden Bilder, die zur gleichen Zeit entstanden sind:
On the second day of the workshop we drove to Hintersee near Berchtesgaden at sunrise - unfortunately it was so cloudy that no "beautiful" photos were taken. However, I used this setting to compare the GFX against the X-T2. Here are the two pictures taken at the same time:
GFX 50x mit GF23mm, ISO 100, Blende 22, Belichtungszeit 26s / GFX 50x with GF23mm, ISO 100, aperture 22, exposure time 26s
X-T2 mit XF 16mm, ISO 200, Blende 11, Belichtungszeit 3,2s + 0,4 Stufen in Lightroom aufgehellt um optisch den gleichen Helligkeitseindruck zu erzielen
X-T2 with XF 16mm, ISO 200, Aperture 11, Exposure time 3.2s + 0.4 exposure levels in Lightroom to achieve the same optical impression of brightness.
Die Bilder sind mehr oder weniger zu vergleichen. Mehr deswegen, weil in beiden Fällen eine hochwertige Festbrennweite zum Einsatz gekommen ist, beide Kameras nebeneinander auf Stativen montiert wurden, die Bilder zur selben Zeit aufgenommen wurden und vom Weißabgleich sowie von der Belichtung aneinander angeglichen wurden. Weniger deswegen, weil die X-T2 mit dem XF 16mm einem 24mm Vollformat-Objektiv entspricht und das GF 23mm an der GFX einem 18mm Vollformat-Objektiv. Zudem hat der Mittelformatsensor ein Bildverhältnis von 4:3 und der APS-C-Sensor ein Format von 3:2. Von daher ist das Bild der GFX deutlich "weitwinkliger" und gleichzeitig "höher", was uns aber bei dem nachfolgenden Vergleich von Bildausschnitten eher helfen soll. Zudem unterscheiden sich die Belichtungszeiten deutlich. Das liegt daran, dass an der GFX aus Gründen der Schärfentiefe die kleinere Blende und zudem die kleinere ISO-Zahl gewählt wurde, was die Belichtungszeit deutlich verlängert hat. Ich habe bewusst die GFX nicht auf ISO 200 umgestellt, weil ich die Kameras mit ihren jeweils "besten" Einstellungen gegeneinander vergleichen wollte. Und da hat die X-T2 halt ISO 100 bei RAW-Aufnahmen nicht verfügbar, sondern startet erst bei ISO 200. Kurzum: Ich erhebe nicht den Anspruch auf einen exakten wissenschaftlichen Vergleich, möchte aber aus Anwendersicht dennoch die beiden Bilder nebeneinander legen und betrachten. In der Gesamtansicht wirkt das Bild aus der GFX auf mich "ruhiger" oder "glatter" und hat eine bessere Tiefenwirkung. Letzteres kann natürlich auch an dem weitwinkligeren Bildausschnitt liegen.
The pictures can be compared more or less. More so because in both cases a high quality prime lens has been used, both cameras have been mounted next to each other on tripods, the images have been taken at the same time and the white balance and exposure have been adjusted to each other. The reason is less because the X-T2 with the XF 16mm corresponds to a 24mm full-format lens and the GF 23mm on the GFX to an 18mm full-format lens. In addition, the medium format sensor has an image ratio of 4:3 and the APS-C sensor has a format of 3:2, so the image of the GFX is clearly "wide angle" and at the same time "higher", which should help us to compare the image sections. In addition, the exposure times vary considerably. This is because the GFX has a lower aperture for depth of field and a lower ISO value, which has significantly lengthened the exposure time. I deliberately did not switch the GFX to ISO 200, because I wanted to compare the cameras with their "best" settings against each other. In short, I'm not claiming to have an exact scientific comparison, but from the user's point of view I'd like to place the two images side by side and look at them. In the overall view, the image from the GFX looks "calmer" or "smoother" to me and has a better impression of depth. The latter can of course also be due to the more wide-angled image.
Schauen wir auf die Details und blicken als erstes auf den großen Stein vor der Insel mit den zwei Bäumen. Dort wächst etwas Gras, das sich gut eignet um die Abbildungsleistung bei eher diffusen Lichtverhältnissen morgens früh zu vergleichen:
First of all let's look at the big stone in front of the island with the two trees. There is some grass growing there, which is well suited to compare the imaging performance in the morning when the light conditions are rather diffuse:

Links das Bild der X-T2 und rechts das Bild der GFX. Das Bild der GFX ist klarer, auch das Gras auf dem Stein ist etwas feiner aufgelöst, wenn man es sich auf einem großen Monitor genau anschaut. Bei oberflächlicher Betrachtung sind die Unterschiede aber nicht sehr groß.
Der zweite Ausschnitt soll dem weißen Haus im Bildhintergrund gelten: Es handelt sich jeweils um 100%-Vergrößerungen. Hier gleicht sich der Brennweitenunterschied mit dem Sensorgrößenunterschied nahezu aus, so dass wir die Bilder mit Ausnahme des etwas anderen Aufnahmewinkels gut vergleichen können.
On the left you'll see the picture of the X-T2 and on the right you can see the picture of the GFX. The image of the GFX is clearer, and the grass on the stone is also a bit more detailed when looking at it on a large monitor. However, when viewed superficially, the differences are not very large.
The second cut-out shows the white house in the background: The pieces shown are 100% cut-outs. Here, the difference in focal length is almost equalized with the difference in sensor size, so that we can easily compare the images with the exception of the slightly different shooting angle.

Auch hier wurde ein 100% Ausschnitt gewählt und auch hier ist das Bild der X-T2 wieder links und das der GFX rechts zu sehen. Die Schärfeleistung ist in beiden Bildern sehr gut. Das Bild der GFX wirkt auch hier glatter, dadurch aber auf mich auch etwas weichgezeichneter als das etwas körnigere Bild der X-T2. Um den Effekt etwas mehr zur verdeutlichen, hier nochmal die Bilder einzeln und etwas größer:
The second cut-out is supposed to show the white house in the background: Here again, a 100% cutout was chosen and the picture of the X-T2 is to be seen on the left and that of the GFX on the right. The sharpness is very good in both images. The image of the GFX seems smoother here, but also a little softer than the somewhat more grainy image of the X-T2, to illustrate the effect a little bit more clearly, here again the images one by one and a little bigger:
Oben das Bild der X-T2, unten das Bild der GFX: / Above the picture of the X-T2, below the picture of the GFX: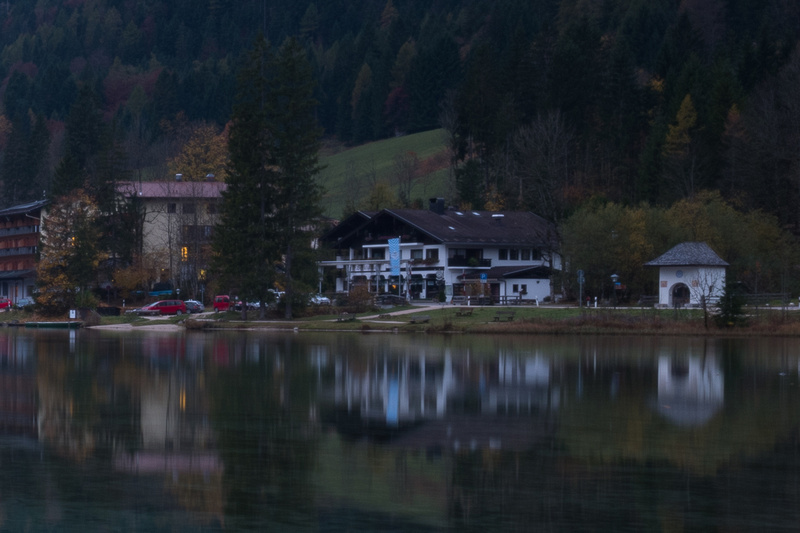 Zusammenfassend wäre mein Urteil, dass es mehr das 4:3 Bildformat des Mittelformatsensors ist, das in diesem Fall den Unterschied gegenüber dem 3:2 des APS-C-Sensors ausmacht und zu einer grundsätzlich anderen Bildwirkung führt. Die Unterschiede in der reinen Bildqualität sind - in diesem Beispiel - für mich nicht wahnsinnig groß. Fairerweise muss man natürlich sagen, dass wir die Unterschiede der Sensorgrößen und damit verbundenen Megapixel-Anzahl (24 MP zu 50 MP) durch die umgerechnet längere Brennweite an der X-T2 ausgeglichen haben.
In summary, my conclusion would be that it is more the 4:3 image format of the medium format sensor, which in this case makes the difference compared to the 3:2 of the APS-C sensor and leads to a fundamentally different image effect. The differences in the pure image quality are - in this example - not that big for me. Fairly, of course, we have to say that the differences in sensor sizes and the associated megapixel number (24 MP to 50 MP) have been compensated for by the longer focal length at the X-T2.
Anschließend ging es zum Gollinger Wasserfall ins Salzburger Land. Es stand der Einsatz von Graufiltern im Vordergrund, um die beliebten weich fließenden und fast schon "nebligen" Wasserbewegungen zu erhalten:
Afterwards we went to the Golling Waterfall in the Salzburger Land. The focus was on the use of grey filters to maintain the popular soft flowing and almost "foggy" water movements:
Die Belichtungszeit bei Einsatz eines HOYA ND 2.7 / 400x Filters betrug in diesem Fall 120s bei f/13 und ISO 160. Warum ISO 160? Dies ergab sich im wesentlichen aus der notwendigen Feinjustierung zur Erzielung der optimalen Belichtung. Da man auch an einer GFX bei längeren Belichtungszeiten diese nicht mehr in kleinen Schritten verändern kann und die Blende bei der geforderten Schärfentiefe ebenfalls de facto vorgegeben ist, bleibt die Veränderung der ISO, um ein optimal belichtetes Bild zu erhalten. An diesem Praxisbeispiel wird erneut der Unterschied zwischen einem APS-C und einem Mittelformatsensor deutlich: Die Schärfentiefe ist bei Einsatz des Mittelformats deutlich geringer, d.h. man muss viel stärker abblenden um ein von vorne bis hinten scharfes Bild zu erhalten. Das verlängert grundsätzlich die Belichtungszeit, was in diesem Fall bei Einsatz eines Graufilters mit Stativ völlig egal ist, aber bei einer Benutzung der GFX bei Tageslicht ohne Graufilter "aus der Hand" schon zu beachten ist. Ohnehin sind Kameras mit dieser Sensorgröße recht empfindlich was Unschärfen bei kleinen Erschütterungen angeht. Das wiederum liegt aber auch in der Abbildungsleistung begründet: Die Bilder sind so scharf und detailreich, das selbst kleinste Verwackelungen überproportional auffallen. Zudem ist weder in der Kamera noch im Objektiv ein Bildstabilisator verbaut. Das Gute aber ist: Man kann bei den GF-Objektiven durchaus weit abblenden ohne Beugungsunschärfen zu erhalten. Blende 16 ist gar kein Problem, selbst der Einsatz einer Blende 22 ist problemlos machbar (kleinste Blende beim GF 23mm ist übrigens 32).
Aber zurück zu diesem Bild: Die Plastizität der Aufnahme ist absolut beeindruckend. Das Bild wirkt fast dreidimensional. Die Aufnahme ist nach dem Import in Lightroom zudem nur ganz wenig bearbeitet. Etwas Lichter raus, leicht den Kontrast erhöht - das wars im wesentlichen auch schon. Den Weißabgleich habe ich vor Ort durch manuelle Wahl der Kelvin-Zahl so gewählt, dass das Ergebnis meinem subjektiven Eindruck vom Ort entsprach. So kann ein perfektes Bild aussehen.
The exposure time when using a HOYA ND 2.7 / 400x filter was 120s at f/13 and ISO 160 in this case, why ISO 160? This was mainly due to the fine adjustment required to achieve optimum exposure. Since it is no longer possible to change the aperture in small steps even on a GFX with longer exposure times and the aperture is also de facto necessary at the required depth of field, the change of ISO is still necessary in order to obtain an optimally exposed image. This practical example shows the difference between an APS-C and a medium format sensor: The depth of field is considerably lower when using the medium format, i. e. you have to choose much smaller f-stops to get a sharp image from front to back. This basically increases the exposure time, which in this case is completely irrelevant when using a grey filter with a tripod. However. when using the GFX in daylight without a grey filter, this should be taken into account. In any case, cameras with this sensor size are quite sensitive to blur caused by small vibrations. But this is also due to the imaging performance: the images are so sharp and rich in detail that even the smallest shakes are disproportionately noticeable. In addition, there is no image stabilizer in the camera or lens. But the good thing about it is that you can use smaller apertures on the GF lenses without getting diffraction blur. Aperture 16 is no problem at all, even the use of an aperture 22 is possible without any problems (smallest aperture with the GF 23mm is 32 by the way).
But to return to this picture: The plasticity of the image is absolutely impressive. The image appears almost three-dimensional. After importing the file into Lightroom, the recording is only slightly edited. A little bit of lighting out, slightly increasing the contrast - that's basically it. I selected the white balance on site by manual selection of the Kelvin figure so that the result corresponded to my subjective impression of the location. This is what a perfect picture can look like.
Nachfolgend vom gleichen Ort noch eine andere Perspektive, ebenfalls unter Einsatz des ND-Filters entstanden (240s Belichtungszeit bei f/16 und ISO 160):
Below from the same location another perspective, also using the ND filter (240s exposure time at f/16 and ISO 160):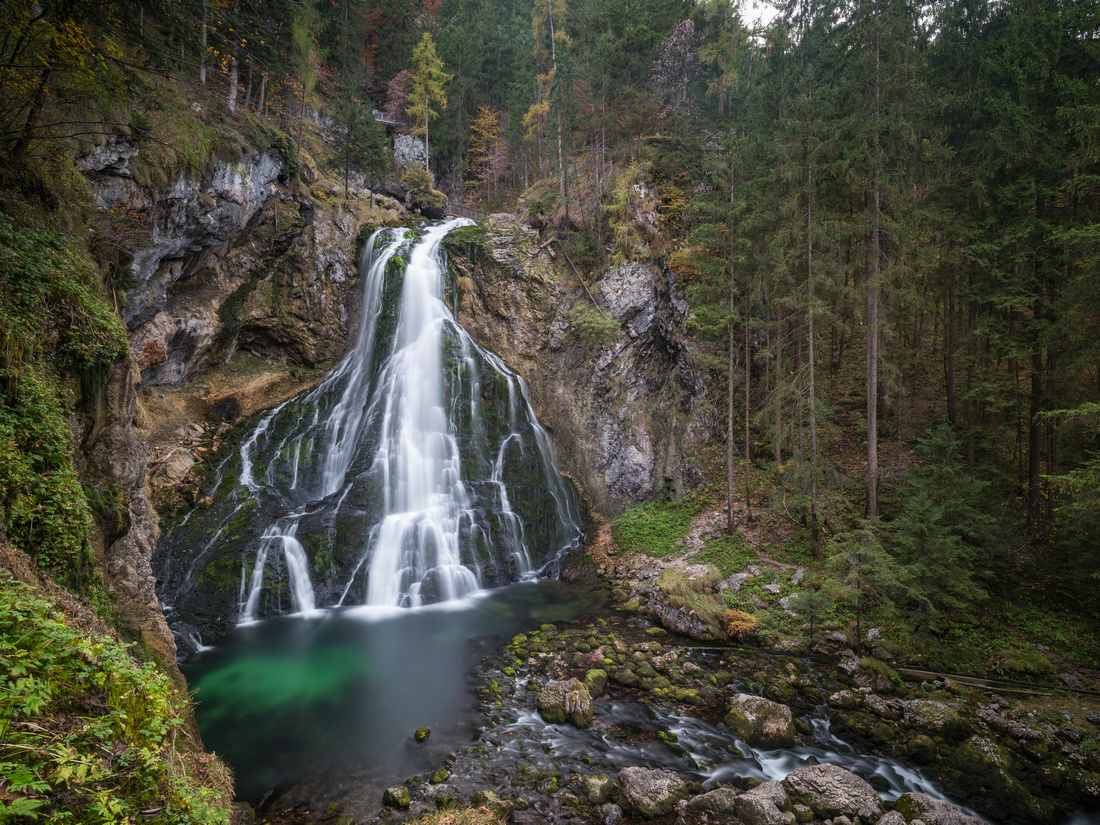 An dieser Stelle möchte ich einige Ausschnitte in der 100%-Ansicht zeigen. Speziell an diesem Motiv lässt sich die Abbildungsleistung der GFX und des GF23mm sehr gut demonstrieren. Zunächst ein Ausschnitt aus dem Vordergrund links unten: Die Belichtungszeit von 4 Minuten führt natürlich zu Bewegungsunschärfen, aber an den anderen Details im Bild lässt sich sehen wie scharf das Bild "bis in die Ecken" ist.
At this point I would like to show some details in the 100% view. Especially at this motif the imaging performance of the GFX and the GF23mm can be demonstrated very well. First of all, a section from the foreground on the lower left: The exposure time of 4 minutes naturally leads to motion blur, but the other details in the picture show how sharp the picture is "to the corners".
Jetzt ein Ausschnitt aus dem oberen und entsprechend weit entfernten Teil des Wasserfalls: Es lassen sch feinste Strukturen erkennen, wie z.B. in dem Geländer der Brücke oder einzelnen Blättern an den Bäumen.
Now an excerpt from the upper and distant part of the waterfall: fine structures can be seen, such as in the railing of the bridge or single leaves on the trees.
Zuletzt noch ein Ausschnitt aus der Bildmitte: Auch hier werden feinste Details aufgelöst. Ich denke, an diesem Beispiel zeigt sich recht eindrucksvoll das ganze Potenzial der Kamera in der Landschaftsfotografie.
Finally, a section from the center of the picture: Here too, the finest details are revealed. I think that the camera's full potential in landscape photography can be seen quite impressively in this example.
Das letzte Motiv haben wir auf der Roßfeld Hochalpen Panoramastrasse gefunden. Die Sonne hat uns den Gefallen getan, sich nochmal kurz zu zeigen und für eine schöne Lichtfärbung am Abendhimmel zu sorgen.
The last motive we found on the Roßfeld Hochalpen panorama road. The sun came out and provided a nice light colouring in the evening sky.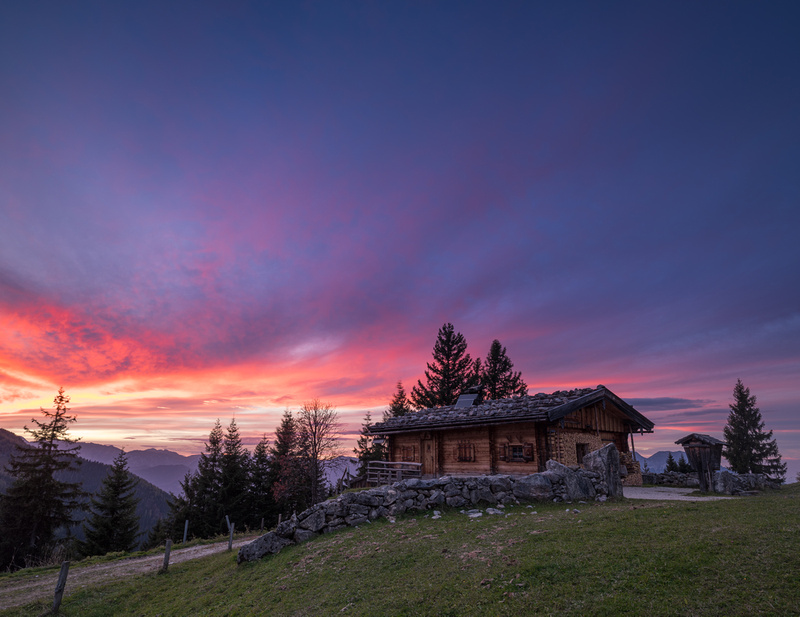 GFX 50s, GF 23mm, ISO 100, Blende 11, Belichtungszeit 0,8s - GFX 50s, GF 23mm, ISO 100, aperture 11, exposure time 0.8s
Da der von mir verwendete Grauverlaufsfilter für diese Lichtbedingungen etwas zu schwach war, musste ich in Lightroom die Tiefen deutlich aufhellen (+90). Das Histogramm im Originalbild ist im Bereich der Schatten so, dass es gerade nicht "ausfranst". Von daher bietet dieses Beispiel die Chance, sich die Möglichkeiten anzuschauen, die die GFX beim Aufhellen dunkler Bildbestandteile bietet.
Since the grey graduation filter I used was a little too weak for these light conditions, I had to brighten the shadows in Lightroom (+90). The histogram in the original image does not "fray"in the area of the shadows. Therefore, this example offers the opportunity to look at the possibilities offered by GFX when brightening dark image components.
Das Ergebnis ist tadellos. Es werden feinste Strukturen sichtbar und Bildrauschen ist auch in den Schattenbereichen nicht wahrnehmbar. Um den Unterschied zu verdeutlichen, hier das Bild nach und vor der Aufhellung der Schatten. Das Ergebnis kann sich mehr als sehen lassen wie ich finde.
The Finest structures become visible and image noise is not noticeable even in the shadow areas. To illustrate the difference, here is the picture of the shadows now and then. The result is quite impressive, I think.
Mein persönliches Fazit. - My personal conclusion.
Die GFX ist eine beeindruckende Kamera. Größe und Gewicht vermitteln das Gefühl, hier keine Kamera, sondern ein hochpräzises Messinstrument in der Hand zu halten. Und so will sie auch behandelt werden. Sie ist nicht schnell oder spontan, von daher ist die GFX keine Kamera für Schnappschüsse oder Bilder, die man unterwegs "so nebenbei" macht. Das bedeutet auch, dass sie z.B. eine X-T2 nicht ersetzen sondern nur ergänzen kann. Geht man jedoch bewusst raus um zu fotografieren oder befindet sich auf einer Fotoreise, dann liefert die GFX herausragende Ergebnisse. Die Bildwirkung ist beeindruckend. Die Bilder erscheinen strukturiert, tief gestaffelt und sind perfekt durchgezeichnet. Die Abbildungsleistung überzeugt auf ganzer Linie. Der Unterschied in der reinen Schärfeleistung zu einer X-T2 mit einer sehr guten Festbrennweite ist für mich jedoch erstaunlich gering wenn man die Unterschiede in der Sensorgröße durch die Brennweite "ausgleicht" und dann in der 100%-Ansicht vergleichbare Bildausschnitte heranziehen kann. Da hatte ich noch auf dem Workshop selbst das Gefühl, das der Unterschied größer ist als er sich bei der Analyse daheim am großen Bildschirm letztlich zeigte.
The GFX is an impressive camera. Size and weight give the feeling of not holding a camera, but a high-precision instrument in your hand. And that's the way it wants to be treated. It's not fast or spontaneous, so the GFX is not a camera for snapshots. This also means that it cannot replace an X-T2, for example, but can only supplement it. However, if you deliberately go out to take pictures or are on a photo trip, the GFX delivers outstanding results. The image quality is impressive. However, the difference in sharpness and clarity compared to an X-T2 with a very good prime lens is astonishingly low if the differences in sensor size can be "compensated" by the focal length. At the workshop I had the feeling that the difference was bigger than it finally showed up on the big screen at home during the analysis.
Ist mir persönlich die GFX jetzt den dreifachen Preis gegenüber der X-T2 wert? Das ist schwierig zu beantworten, weil sie meine X-T2 nicht ersetzen kann. Das ist eine klare Erkenntnis des Workshops für mich. Sie ist eine professionelle Kamera, die ihre Stärken immer dann ausspielt, wenn man sie für professionelle Anwendungsfälle einsetzt. Hierfür ist sie konzipiert und FUJIFILM dürfte vornehmlich Profifotografen als Käufergruppe einer solchen Kamera im Blick gehabt haben. Professionelle Anwendungsfälle kann es jedoch auch im privaten Bereich geben, z.B. wenn man regelmäßig an Wettbewerben teilnimmt. Dann ist sie zweifelsohne ihr Geld wert und dann gerät eine X-T2 im Vergleich zur GFX auch an ihre Grenzen. Betreibt man die Fotografie ambitioniert und leidenschaftlich als Hobby, ist es auch eine Frage der individuellen Preisbereitschaft, ob man sich für eine GFX entscheidet. Und da muss ich persönlich noch ein wenig überlegen ...
Is the GFX worth three times the price compared to the X-T2? This is difficult to answer because it can't replace my X-T2. This is a clear insight of the workshop for me. It is a professional camera, which shows its strengths whenever used for professional purposes. It is designed for this and FUJIFILM is probably mainly aimed at professional photographers as a group of buyers of such a camera. However, professional applications can also be found in the personal sphere, e. g. if you regularly participate in contests. Then it is without a doubt worth the money and then an X-T2 gets to its limits compared to the GFX. If you are an ambitious and passionate hobby photographer, it is also a question of individual willingness to pay for a GFX. And I have to think about that personally...